'Us' review: Jordan Peele's second complex allegory demands all your attention
Us Reflects a Mirror Image of 'The Twilight Zone'
Movie: Us
Cast: Lupita Nyong'o, Winston Duke, Shahadi Wright Joseph, Evan Alex, Madison Curry, Elisabeth Moss, and Tim Heidecker
Director: Jordan Peele
Genre: Horror, Thriller
Duration: 1 hrs 56 min
Story:
Abigail Wilson (Lupita Nyong'o) has a troublesome past that has left her with Post Traumatic Stress Disorder (PTSD) and fear of beaches in her hometown Santa Cruz. But when her husband Gabe (Winston Duke) decides to take their cerebral kids — Zora (Shahadi Wright Joseph) and Jason (Evan Alex) — for an outing at the boardwalk and amusement park by the beach, Abigail reluctantly agrees to go. Later that night, the family is visited by their doppelgangers who are looking to 'un-tether' themselves from the originals. Thus begins a game of catch, in which Abigail has to dig her heels and confront her childhood trauma to save her family.
Review:
Us is not Get Out. Let me take this out of the equation right away. Director Jordan Peele's sophomore venture is not a crisp, easy to understand, crystal clear allegory as his first movie. It asks you to pay attention and possibly come back for another viewing before you jump into a debate about the movie by the watercooler. I say this because I am aware of the general broad strokes of a racial tussle but I am not completely updated on the nuances of the USA's history with it or the socio-economic impact of it. Furthermore, I am also not very knowledgeable with Bible verses. I certainly had no idea about 'Hands Across America' and the subsequent bust. So as a desi viewer, it takes time to relate to the movie packed with America-specific references that Peele is offering. I was not disappointed but it took me a long time to understand what he was trying to say. Film writer Kyle AB's Twitter thread helped me understand the symbolism.
Still, for Jordan Peele fans, there is this subtle — as Kyle AB puts it — 'Peele-ian' way of jolting your perception of the society. When the mayhem in the Wilsons' house is about to hit top gear, we hear the line, "We are Americans."
Your perspective of the movie changes. Us is a commentary on double consciousness in the African-American community. Kyle AB referred to W.E.B. Du Bois' book The Souls of Black Folks. He wrote: For Du Bois, Black consciousness is both haunted and hunted, on the one blade, by what white people think of us and, on the other blade, by what we think of ourselves. There is a switch code that's activated based on who they are interacting with. Us represents the idea of what they think of themselves while trying to fit into the boxes made by society. The red overalls, golden scissors, single fingerless glove become symbols of repressed identities that only surface when you are at your most vulnerable.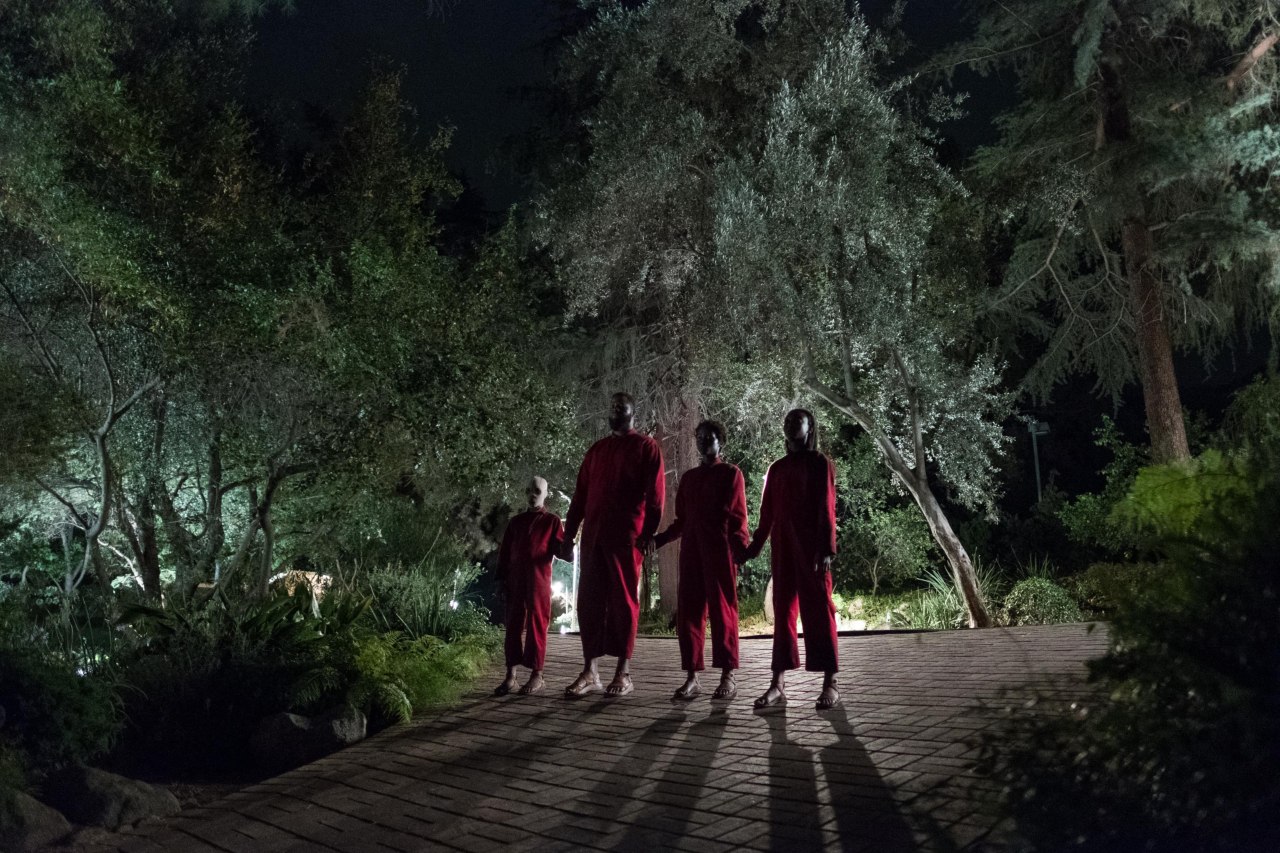 But if I may be so bold to generalise, it also applies to marginalised people across the world who have to fit in into the societal definition of 'normal' to be accepted by the majority. In the case of India, it would ring true for the caste issue. Because of Peele's multi-layered writing, it is possible that the movie is simply telling you that you are not different than the people creating living hells around them. You might also be a nightmare for someone else.
Lupita Nyong'o is phenomenal as both, Abigail and Red. This is the first time she is leading a movie and has succeeded in switching between protective Abigail and the clinical, vengeful Red. Her intense portrayal is cushioned by Winston Duke's dad jokes at the right time. We have seen his easy comic timing in Black Panther as M'Baku. He steals the show with his dad-like charm (most fathers can only dream of) in the middle of the bloody scenes. Everybody else, including Elisabeth Moss, just do their jobs.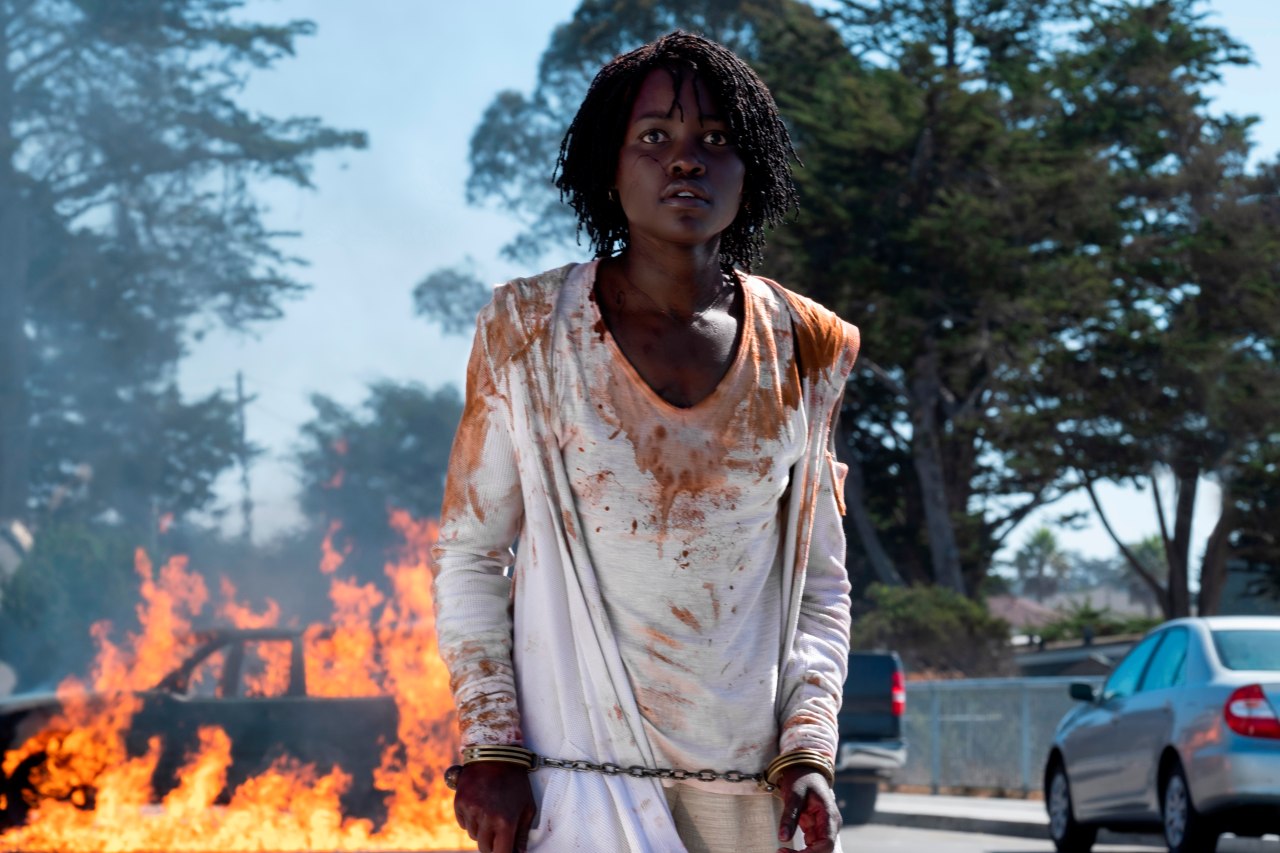 Leaving the interpretation of the ending to the audiences is assumed to be the sign of a great auteur. Peele is definitely headed in that direction with his unique storytelling. There is plenty of fodder for a casual viewer who just wants to get to the bottom of the mystery that has been unfolding in front of her. Pop-cultural references to classic Hollywood horror movies like The Shining, Jaws, a little hat tip to musical genius offered by the African-American community in the form of a Michael Jackson prop and NWA's song 'F–k the Police' are peppered throughout the movie. My personal favourite is Star Wars and Chewbacca reference to 'It's a trap!' It's a very simple thing to follow if you do not know what Peele is capable of.
Verdict:
You cannot put Us in a category and that is why it makes a compelling (a bit repetitive towards the end, but that's OK) watch.
Critic's Ratings – 3.5/5